Industrial Oils
Solutec provides a whole range of lubricants for industry, helping to maximise performance of equipment whilst reducing downtime. They are formulated to the highest standards and the range is designed to deliver high quality performance in the extreme working conditions. The range offers a diverse range of ISO viscosities, which satisfy the requirements of the industrial user.
The metal working range offers superior machining characteristics, which results in extended tool life and excellent component finish. The range encompasses a wide range of cutting fluids including chlorine free, grinding, neat and spark erosion fluids all meeting the latest specifications.
PDF Download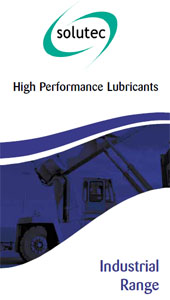 Solutec can provide a superb range of mould oils and release agents for use in the manufacture of brick, concrete, tile and porcelain. The mould oils come in two categories neat and water-soluble. Using the correct lubricant is essential in ensuring the long term reliability and protection of your engine. Every product is engineered to perform a specific task.
If you are unable to source the product you require or have any specific questions on our lubricants then please contact us.
HLP HYD OILS - ASW DIN pt2
HLP 10 Bulk 210ltr 25ltr 5ltr
HLP15 Bulk 210ltr 25ltr 5ltr
HLP 22 Tipping Gear Oil/Jack oil Bulk 210ltr 25ltr 5ltr
HLP 32 Bulk 210ltr 25ltr 5ltr
HLP 46 Bulk 210ltr 25ltr 5ltr
HLP 68 Bulk 210ltr 25ltr 5ltr
HLP 100 Bulk 210ltr 25ltr 5ltr
HLP 150 Bulk 210ltr 25ltr 5ltr
BIO HYD 32 Biodegradable Hyd Oil Bulk 210ltr 25ltr 5ltr
BIO HYD 46 Biodegradable Hyd Oil Bulk 210ltr 25ltr 5ltr
BIO HYD 68 Biodegradable Hyd Oil Bulk 210ltr 25ltr 5ltr
BIO HYD 32 ES Synthetic Biodegradable Bulk 210ltr 25ltr 5ltr
HVI HYD OILS - HIGH VI
HVI 22 Bulk 210ltr 25ltr 5ltr
HVI 32 Bulk 210ltr 25ltr 5ltr
HVI 46 Bulk 210ltr 25ltr 5ltr
HVI 68 Bulk 210ltr 25ltr 5ltr
PPM (Poclain) ISO 46 (Blue) Bulk 210ltr 25ltr 5ltr
ZF HYDRAULIC OILS
ZF 32 Bulk 210ltr 25ltr 5ltr
ZF 46 Bulk 210ltr 25ltr 5ltr
ZF 68 Bulk 210ltr 25ltr 5ltr
ZF 100 Bulk 210ltr 25ltr 5ltr
ZF 150 Bulk 210ltr 25ltr 5ltr
Kunar 88/46 Fire resistant Bulk 210ltr 25ltr 5ltr
MACHINE & LIGHT SLIDEWAY OILS
ISO 22 Bulk 210ltr 25ltr
ISO 32 Bulk 210ltr 25ltr
ISO 46 Bulk 210ltr 25ltr
ISO 68 Bulk 210ltr 25ltr
ISO 100 Bulk 210ltr 25ltr
ISO 150 Bulk 210ltr 25ltr
ISO 220 Bulk 210ltr 25ltr
ISO 320 Bulk 210ltr 25ltr
ISO 460 Bulk 210ltr 25ltr
INDUSTRIAL GEAR OILS
OM 68 Bulk 210ltr 25ltr 5ltr
OM 100 Bulk 210ltr 25ltr 5ltr
OM 220 Bulk 210ltr 25ltr 5ltr
OM 320 Bulk 210ltr 25ltr 5ltr
OM 460 Bulk 210ltr 25ltr 5ltr
Om 680 Bulk 210ltr 25ltr 5ltr
SYNTHETIC GEAR OILS (PAO)
Syngear 32 Bulk 210ltr 25ltr 5ltr
Syngear 46 Bulk 210ltr 25ltr 5ltr
Syngear 68 Bulk 210ltr 25ltr 5ltr
Syngear 100 Bulk 210ltr 25ltr 5ltr
Syngear 150 Bulk 210ltr 25ltr 5ltr
Syngear 222 Bulk 210ltr 25ltr 5ltr
Syngear 320 Bulk 210ltr 25ltr 5ltr
Syngear 460 Bulk 210ltr 25ltr 5ltr
Syngear 680 Bulk 210ltr 25ltr 5ltr
PAG SYNTHETIC INDUSTRAIL GEAR OIL (not miscible with other synthetics or minerals)
ISO 150 25ltr
ISO 220 25ltr
ISO 320 25ltr
ISO 460 25ltr
HEAVY DUTY SLIDEWAY OILS
ISO 32 Slideway Oil (maxway XT 32) Bulk 210ltr 25ltr
ISO 68 Slideway Oil (maxway XT 68) Bulk 210ltr 25ltr
ISO 220 Slideway Oil (maxway XT 220) Bulk 210ltr 25ltr
COMPRESSOR OIL - Mineral (2000 Hrs)
AC 2032 (Screw Type) Bulk 210ltr 25ltr 5ltr
AC 2046 (Vane / Screen Type) Bulk 210ltr 25ltr 5ltr
AC 2068 (Vane / Piston) Bulk 210ltr 25ltr 5ltr
AC 2100 (Piston Type) Bulk 210ltr 25ltr 5ltr
AC 2150 (Hydrovane Type) Bulk 210ltr 25ltr 5ltr
COMPRESSOR OILS - Synthetic
AC 8032 (Screw Type) Bulk 210ltr 25ltr 5ltr
AC 8046 (Vane / Screen Type) Bulk 210ltr 25ltr 5ltr
AC 8068 (Vane / Piston) Bulk 210ltr 25ltr 5ltr
AC 8100 (Piston Type) Bulk 210ltr 25ltr 5ltr
AC 8150 (Hydovane Type) Bulk 210ltr 25ltr 5ltr
REFRIGERATOR COMPRESSOR OILS
CL 32 Bulk 210ltr 25ltr 5ltr
CL 46 Bulk 210ltr 25ltr 5ltr
CL 68 Bulk 210ltr 25ltr 5ltr
MISCELLANEOUS LUBRICANTS
RP 410 (Brush Applied Anti-Rust) 210ltr 25ltr 5ltr
RP 410 /WS/50 (Spray Applied Anti-Rust) 210ltr 25ltr 5ltr
Rockfrost 210ltr 25ltr 5ltr
SPC 68 WOT (Tech White oil) 210ltr 25ltr 5ltr
SPC 15 WOT (Tech White Oil) 210ltr 25ltr 5ltr
Kunar WOT 32 (Tech White Oil) 210ltr 25ltr 5ltr
Heat Transfer N Bulk 210ltr 25ltr
Air Line/Air Tool oil 210ltr 25ltr 5ltr
Transformer Oil (POA)
Rock Drill 68 210ltr 25ltr
Rock Drill 100 210ltr 25ltr
Rock Drill BD 200 210ltr 25ltr
Rock Drill 220 210ltr 25ltr